This will be our first visit to this conference and we are really excited as to what it will bring both from a professional level and also being able to get up close with "Barnesy" at the gala dinner.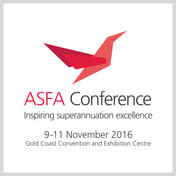 The ASFA conference brings together the most important decision makers from across the whole of the super industry and the highest calibre speakers from around the globe. It creates the perfect recipe for business-changing conversations, innovative brand showcasing and that all-important competitive advantage.
This year Protecht is looking to continue building on its existing portfolio of Super Industry clients and taking the opportunity to give onsite demonstrations of how our products can help them.
This conference sees Ian Brooks and David Bergmark team up on Dave's "home turf" up on the Gold Coast. Historically, the Gold Coast always welcomes us with open arms and a great deal of sunshine. If you are attending then we will be on stand 22, please drop by and say hello, it would be great to meet you.