Our first event of the season was the Customer Owned Banking Association (COBA) Conference held in Adelaide. The timing of the event could be considered perfect for the risk management topic as we endured the worst storm that South Australia has seen for many, many years.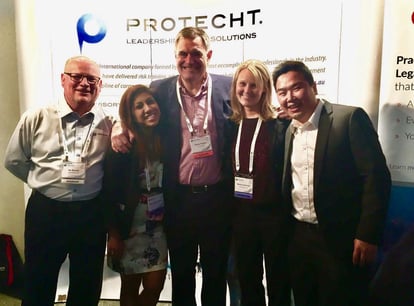 As a result of which I was able to personally experience a real-life Business Continuity Planning (BCP) in action whilst sitting at Adelaide airport as the lights went out – and only some of them came back on! Half of the terminal restored lighting quickly, but half did not. I am sure that the BCP will be fully reviewed in light of the circumstances.
From a functionality point of view, the most problematic issue appeared to be that the power to the security processing area was not restored creating a huge backlog of people trying to get flights which in turn led to planes not be able to leave and free up gates for incoming planes to allow passengers to disembark. It was a great opportunity to use the Protecht Bow Tie app to analyse the event.
A side issue was the loss of payment facilities in the shops and bars. Fortunately for me being a little bit old school cash was, for a short time at least, king again!
Protecht has had a long connection with the mutual banking sector, with a large number of COBA member organisations and their Boards being trained by David Tattam and many members using Protecht.ERM, Protecht.ALM and Protecht.CCRM for their enterprise, market and commercial credit risk management needs.
Representing Protecht this year was myself, Selina Ivanovski and Rajes Selvanathan. It was the first time for many years that David Bergmark did not attend, but for those of you who tried to contact him will already know, Dave had taken a well-earned break from civilisation and had "gone fishing". This year Protecht was pleased to partner with LexisNexis and show delegates the integrated obligation content now being provided directly through the Protecht.ERM system and we were able to arrange a special offer specifically for this conference.
Also, we were excited to release our first iOS app with the unveiling of our Bow Tie app on the Apple app store… if you haven't seen it yet search in the app store for Protecht and download for free.
Article written by Ian Brooks, Associate Director, Enterprise Risk