Recent months have been keeping the Protecht Group as busy as ever with continued expansion both internally and through the continued broadening of our client base. Our team has increased by 30% year-on-year whilst the breadth of industries now using Protecht.ERM has continued to expand. Excitingly, Protecht has now launched operations in the UK and is looking forward to being able to share its expertise in the Risk and Compliance space in the UK.
In 2018 Protecht has already participated in a number of events including the National Risk Management Forum organised by The Governance Institute and the Australian University Safety Association Conference. Now we are ready for "Conference Season". We have a number of exciting features recently introduced into Protecht.ERM which we are looking forward to showing you at one of the upcoming events. So the Team has packed their bags and is raring to go to our first event of this season, which this year is COBA 2018 in Melbourne.
Here is the list of upcoming events at which Protecht will be exhibiting. We are also pleased to have David Tattam, Protecht's Director of Research and Training, invited to speak at a number of these conferences. If you are attending one of the events where David is speaking then come along and hear what David currently has to share.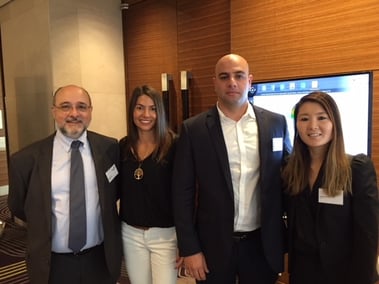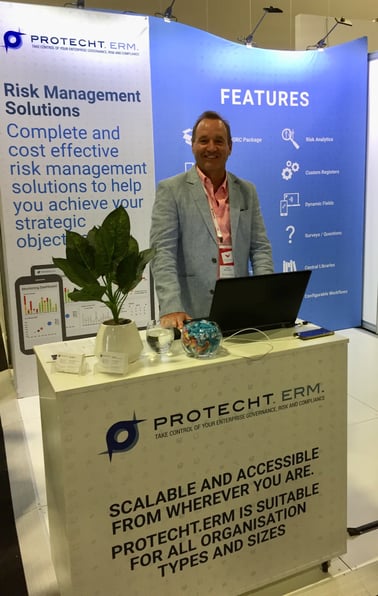 Upcoming Events
COBA 2018
Customer Owned Banking Association (COBA)
When: 21st - 23rd October
Where: Melbourne Convention & Exhibition Centre
Why:

Protecht has had a long connection with the Mutual ADI sector with a large number of COBA member organisations and their Boards being trained by David Tattam and also using

Protecht.ERM

,

Protecht.ALM

and

Protecht.CCRM

for their enterprise, market and commercial credit risk management needs.

Visit

Booth number 38

and say "Hi" to D

avid Bergmark

, Selina Ivanovski and

Ian Brooks

.


RMIA 2018
Risk Management Institute of Australasia (RMIA)
When: 31st

October

- 2nd November
Where: Gold Coast Sheraton Grand Mirage
Why: This year we will be actively participating in this event and we are proud to sponsor the Risk Student of the Year Award. Also, David Tattam will be part of a panel on day one:

"

Risk Culture & the Royal Commission", and he will

also present a session on day two as part of the

Organisational Resilience learning

stream: "Building Resilience by creating a happy marriage between Risk and Reward."

Visit

Booth number 6

and say

"Hi"

to David Tattam, David Bergmark and Adel Fakhreddine.


ASFA 2018
The major event for the Australian Superannuation industry
When: 14th - 16th

November

.
Where:

Adelaide Convention Centre
Why:

This is the third consecutive year for Protecht at this event. We look forward to meeting up with our many clients in the superannuation space.



Visit

Booth number 32

and say

"Hi"

to David Bergmark and

Adel

Fakhreddine.


The Institute of Risk Management - Risk Leaders Forum 2018


Risk Leaders 2018 will p

rovide a forum for debate and discussion of issues like

Technological change, including AI and big data; geopolitical volatility; culture and behaviour; and professional practice

When: 15th

November

Where: London
Why: With the expansion of Protecht into the UK this is a great opportunity for us to meet UK Risk Leaders and for them to see what Protecht.ERM can do to help them in their current roles.



Visit the Forum and say "Hi" to Alf Esteban and Keith Davies.


Financial Services Internal Audit Conference
This

annual event brings together experienced speakers who will offer insight and expert guidance, providing you with a unique forum to exchange knowledge on the critical issues impacting the internal audit profession.

When: 26th - 27th November

Where:. Sydney Swissotel
Why:

David Tattam is speaking at the conference and we also look forward to being able to demonstrate Protecht.ERM functionality specifically designed to assist in the Audit function.

David Tattam is also delivering the

Taking Risk Management to the next level

workshop.



Visit the Conference and say "Hi" to David Tattam and

Adel

Fakhreddine.
If you are also going to be at any of these events then please come and say "Hi". If you would like to arrange for a personal demonstration of Protecht.ERM or would just like to learn a little more about us then please send an email to luna.restrepo@protecht.com.au and Luna will get back to you.