It is already February 2017. The year certainly feels like it is flying by. We are glad to see that our Risk Management Insights Blog continues to be read by thousands of professionals such as you, from all around the world. We all seem to receive a lot of information every day from many different sources. So to ensure that you didn't missed out on some of the articles that we have shared, we thought we would recap on some of our articles from 2016.
So we have made a selection of the '2016 Top five most read blogs'. We hope you enjoy the content and if you have not subscribed yet, just click here to receive the next articles directly in your Inbox. Enjoy.
What are the key skills and characteristics needed to be successful in this role? Here is my list:
Risk management is to a large degree an art form. This requires a strong right hand (artistic) brain, able to cope with qualitative and inexact concepts and able to "see" into the future.
At the same time, the risk manager needs to be logical, analytical, problem-solving and exhibit a high degree of common sense.

The risk manager must be commercially astute and demonstrate a high degree of business acumen.

Read more.
Operational Risk Management and the wider defined Enterprise Risk Management are often touted as a new concept. While the methodologies and processes employed may have been enhanced in the recent past, risk management is hardly new. Humans, arising from the instinct for survival, have been using and developing risk management techniques from the beginning of time. Continue reading here.
In this blog, we will see how the RCSA works in a business context by applying it to a business process. I will use the process of managing employee expense claims, their payment, processing and recording, a process we can all appreciate from one perspective or another.
This example is deliberately at a granular level to illustrate the principles. The same concepts should be used at any level of the organisation using the appropriate level of granularity. This means that the volume of information should be similar for any risk assessment carried out. Find here the article with 7 practical steps to follow.
Compliance is an outcome of conforming to a rule. That rule may arise from an external source such as a law or regulation, or an internal source such as a policy, code or control. Compliance with these two main sources gives rise to external and internal compliance.
The issue for an organisation is how to conform to these rules? This is the key objective of a compliance function. This blog provides an overview of one of the elements that need to be considered when building an optimal compliance function. Read more.
This blog looks at the potentially awesome power that a well-designed and well applied
KRI system can have in the business world.
KRIs have multiple purposes. The main one is to act as an early warning system to prompt initial investigation and response so as to deal with a risk early in its life. It helps a firefighting risk manager to become a proactive risk preventer. At a wider level, KRIs allow us to "measure" risk and incorporate risk into risk-based performance measurement, risk-based decision making and risk-based incentive schemes. Find the complete article here.
---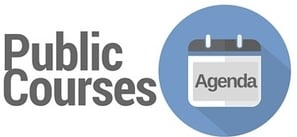 With the right knowledge, expertise and technology in place, it is possible to embrace risk and advance your organisation as a result.
Click on the image to find the current Risk Management training agenda.
Remember that your opinion is important for us. If you have specific recommendations for topics to be covered during this year, please send us an email to marketing@protecht.com.au.