---
See the Slideshare and find the pictures of Protecht team members in Action
Tough Mudder is an endurance event series in which participants attempt 16–19 km military-style obstacle courses that test mental as well as physical strength. The obstacles often play on common human fears, such as fire, water, electricity and heights.
The main principle of the Tough Mudder revolves around teamwork. The Tough Mudder organisation values camaraderie throughout the course, designing obstacles that encourage group participation. The first event was held in 2010 and to date, more that 2 million people worldwide have participated.
Protecht staff members have participated in the Sydney Tough Mudder event since 2013 and this year we noticed some of our clients participating as well. This short article looks at the risk management aspects of Tough Mudder and includes some pictures of the Protecht team and Northern Inland Credit Union CFO, Kathy Beavan in action.
Having in mind that risk management is our business, we decided to go deeper and have a look at what kind of safety rules are implemented to guarantee that every participant can mitigate some of the risks of being part of this event, minimizing hazards to achieve the key objective… Crossing the finishing line! (Read Article about Risk and Reward).
Tough Mudder Events Safety Facts:
Records: Tough Mudder has hosted over 150 events in the past 5 years, with more than 2 million Mudders safely earning their headbands.
Staff and Experience: The Tough Mudder organization has more than 100 employees with event experience, including more than 20 full time employees with a collective 75+ years of expertise in safety and mass participation event delivery for organizations including the Olympic Games, FIFA, USA Triathlon, New York Road Runners, USTA, PGA Tour, Rugby World Cup, IMG and more.
Communication: Every participant at Tough Mudder events receives 10 important tips that need to be adhered to so that they can cross the finishing line safely:
Train appropriately
Prepare for the weather
Hydrate
Arrive healthy
Dress for success
Warm up
Practice water safety
Stay alert
Know your limits
Listen to your body
On-site assistance: If a participant needs any assistance during the event, they can find on-site safety personnel, with medical experts including ALS, EMT, paramedics, water rescue technicians and emergency response personnel.
Insurance: As part of every registration, each participant receives insurance, which covers them in case of injury.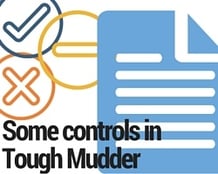 Analysing these safety facts and participant guidance, we can see risk management in action. The Tough Mudder event has articulated the objectives of the organisation as well as the participants, identified the risks and has put in place controls to mitigate the risk to as low as reasonably practical.
We can see preventative controls (experienced staff, pre-event training, dress appropriately, warm up), detective controls (stay alert, know your limits, listen to your body), and reactive/remediation controls (on-site assistance, insurance).
---
CONCLUSION:
Risk Management is a big component of Tough Mudder. As we always emphasize, every industry, every company, regardless of size, activity or goals, needs to have a Risk Management framework established, communicated and embedded in everything that they do. Tough Mudder is no exception!
Source of information: https://en.wikipedia.org and https://toughmudder.com.au
RISK AND CONTROL SELF-ASSESSMENT is one of our Modules: Protecht.ERM accommodates your risk assessment methodology and enables you to link back to the central risk event and control libraries for aggregation in reports.
---