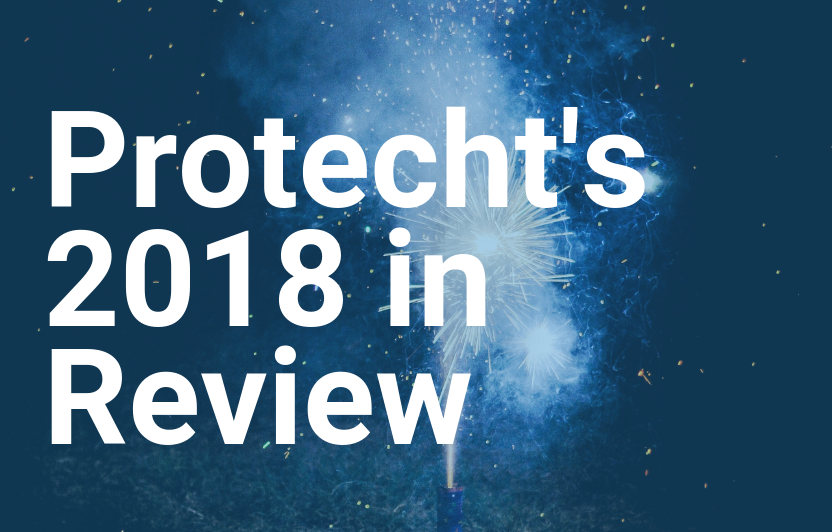 Firstly, thank you to all of our clients, followers and subscribers for your support over the last 12 months. It has been an incredible year of growth. To close off Protecht's 19th year in business, here's a round up of key events, milestones and stats from 2018.
We invested in our people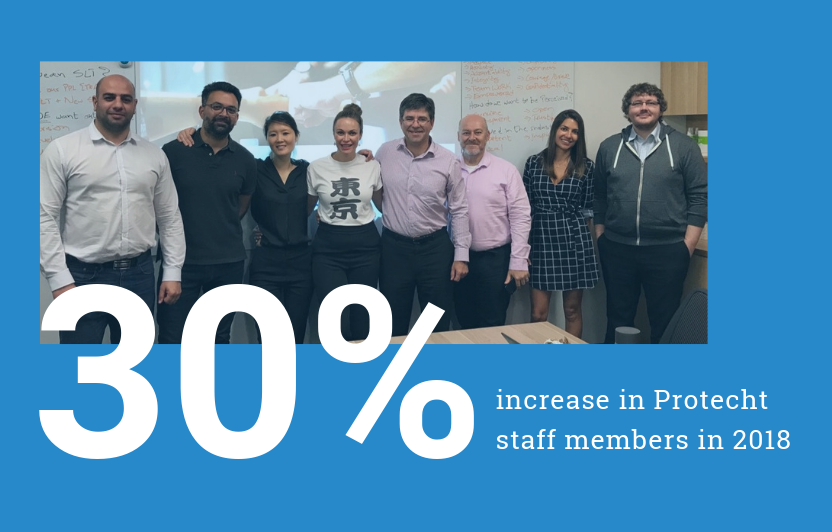 In 2018, we made key strategic hires from both within and out of the industry to build our current capability, resulting in a 30% increase in staff members.
We also created a Senior Leadership Team to support the growth of Protecht's current and future leaders which ensures we will continue to provide an outstanding product and services for our clients.
We are currently developing new ways to communicate and engage with our team, such as a new interactive employee portal, new induction process and a focus on wellness and our Employee Value Proposition.
We streamlined Advisory and Analytics

Nick Broome joined us as Director, Risk Advisory and Analytics. Nick brings 25+ years of experience in Risk Management and analytics to Protecht.
We also brought together our analytics and advisory teams to continue to improve the connectivity between the ERM frameworks and reporting.
We're continuing to work on Best Of Breed concepts, leveraging our learnings across our implementations to provide as much value as possible back to clients on Protecht.ERM functionality and use cases.
Likewise, we're continuing to develop our Risk Analytics capability including developing a Risk Culture Dashboard for the end of Q1 2019.
We grew the Technical Support team

We maintained an average customer satisfaction rating of 4+ out of 5 stars through technical support and are working hard to ensure that we continue to deliver exceptional service.
The support team has grown and we have an additional technical support engineer on staff making it a team of 4 members in Australia. Offshore support is being expanded in 2019 for our European clients.
We are exploring opportunities of enhancements with the service desk product to bring about advanced functionality around reporting to our customers.
We settled into our new office

We've settled into our new light-filled space located at 299 Elizabeth Street in Sydney, with views of Hyde Park (and bonus water views in the distance).
The photo of our very ecstatic team members on the right were taken right after the new lifts were installed.
We welcomed new clients

We were very excited to welcome around 40 new clients this year from the finance, superannuation, health care, regulatory and other industries, including leading government agencies, ASX listed corporates, private health insurers, superannuation companies and more.
We committed to Product and Security updates

The next two releases will bring a significant refresh to the user experience in both reporting and the overall look and feel.
We're also working on a native mobile app that brings data entry to the palm of your hand –secure & convenient. Risk Management wherever you are.
We brought (back!) on board a new Release Quality Manager, Mark Green, to bring together development, quality, infrastructure and support. We also recruited a new IT Security Manager, Roland Wen, in a dedicated security role.
This year, as part of our ongoing Security framework, we are pleased to announce our ISO 27001 re-Certification.
We trained more people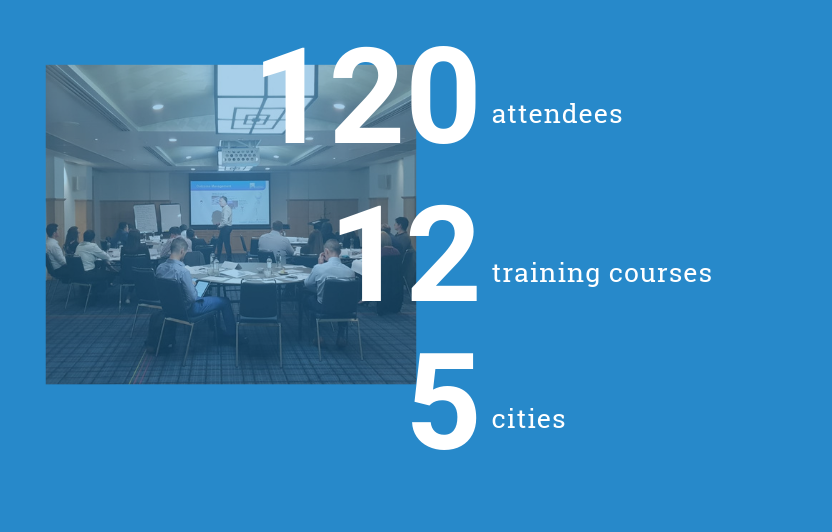 We brought our popular Enterprise Risk Management training courses to 5 cities across Australia and New Zealand this year, reaching 120 risk and compliance professionals from Sydney, Melbourne, Brisbane, Perth and Auckland.
We're also very pleased to announce that in January 2019, we will be holding our first public training course in London! If you're interested, check out the Integrated Risk Management workshop details.
Don't miss the "Taking Risk Management to the next level" pre conference workshop by David Tattam:
⏲️Monday, 26/11/2018 - 9:00 AM to 5:00 PM
📍Swissotel Sydney, 8/68 Market Street, Sydney, NSW 2000, Australia

Get your ticket: https://t.co/UgIbvPazbI @IIAAust #internalaudit pic.twitter.com/xcM001VdY7

— Protecht (@Protecht_Risk) November 23, 2018
We went global!

2018 also saw us open our new office in London for business, led by Keith Davies.
This expansion enables us to provide the global risk management community with tools to increase organisational awareness and appropriately manage risk.
We went to conferences and events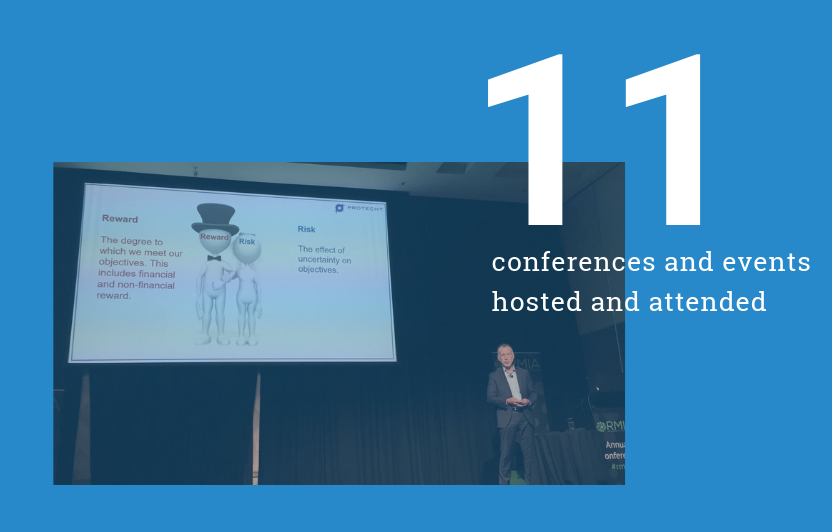 In 2018, we also got the opportunity to say hi to old colleagues and meet new faces at the following conferences and events:
COBA 2018
RMIA 2018
ASFA 2018
Financial Services Internal Audit Conference
The Institute of Risk Management - Risk Leaders Forum 2018 in London
Everywoman in Risk
and heaps more!
Here are some photos of the team working, looking serious and goofing around at the #RMIA Annual Conference 2018. Super early bird tickets now available for the 2019 conference in Melbourne: https://t.co/LD7i0wf5fV @RMIA_AU #flashbackfriday #fbf #risktaker pic.twitter.com/25omjPwKdO

— Protecht (@Protecht_Risk) December 14, 2018
Thank you for being with us in our journey so far!
We can't wait to celebrate our 20th anniversary with you and show you the latest developments and improvements to our products and services next year, see you in 2019!
❤️
The Protecht Team
#risktaker